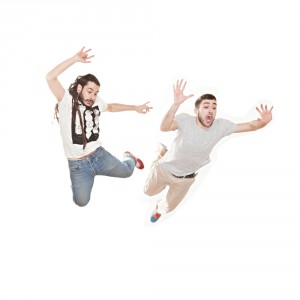 Say Dubai is a collaboration between Francesco Bocchini aka. Nobel and Matteo Pepe aka. Uabos, two well-known DJs from the Milan scene.
Say Dubai was discovered by Malente in May 2011 (No Brainer/ Exploited / Fools Gold) and on 28 October 2011 they released their first EP 'Bum' on No Brainer Rec with remixes by Sam Tiba (Club Cheval / Marble), Polymath, Kill Light as well as Look Like (available for free download). Most recently, their EP Bum was also dropped on Discobelle.
Say Dubai were featured in the Sound Pellegrino podcast Episode 43 by Noob (Box Noize Rec / Sound Pellegrino) and in the Halloween mix by Zombies For Money. They were also played by Martelo in his Fabriclive promo mix.
Lastly, Say Dubai has remixed Malente's track 'If I Was U' out on No Funk and '2 Much 2 Do' by Keith & Supabeatz on Southern Fried Rec.
On september 2012 the duo is going to drop out his new ep out on No Brainer called "Bad Dreams Ep"
Say Dubai is also supported by:
DIPLO
ZOMBIE NATION
CROOKERS
CANBLASTER
NOOB
WORTHY
FOAMO
NT89
BEATAUCUE
RESET!
FEADZ
VINYL RICHIE
TECH RIDER
2 CDJ 2000
1 DJM800