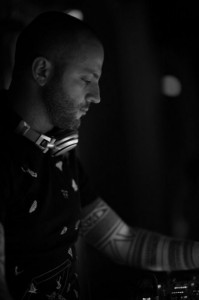 LUCIANO ESSE has an expert knowledge of music in all its expression. He started to work in 1990 with "Enjoy Group", a collective which changed the way house music was percieved in south of Italy. From 1995 till 1999 he worked with "House Essentials" and became one of the best promoters in his country. Year 2000, he joined "The Flame" crew, which is at the farefront of music reality in most of Italy. With The Flame crew he started to have the first contact with decks and vinyls, whilst keeping contact with the people that always followed him to the best underground parties.
He moved to London in 2001 to make deeper his music knowledge and in summer 2002 he got a weekly residency on sunday night at "Turnmills", also playing at "The Arches", "Crash", "The Egg", "AKA (The End)", "The Rex". In 2005 he starts to organise his own party "ZUM" with Toni D at the most underground clubs in London. In the same year John Digweed hosts him at his Kiss 100 Radio Show. At the end of 2005 he starts his residency with The Flame Music Department in Milan at superclub Amnesia. On April 2006 he makes his debut at Fabric, becoming one of the regular djs of the super club. In summers 2006 and 2007 he is one of the resident djs of "Vitalik Crew" at We Love Sundays at Space in Ibiza. From 2006 he is one of the regular djs in such clubs as Clorophilla, Cromie and Guendalina.
He also played at "Fabric" (London), "Matter" (London), "Fuse" (London), "Mulletover" (Ibiza – London), "Clandestino @ The End" (London), "Club 4 @ City Hall" (Barcelona), "Krisha Mira" (Moscow), "Pacha" (Ibiza), "Underground" (Ibiza), "Panorama Music Festival" (Naples), "Mimetica" (Madrid), "Raum" (Barcelona), "Dirty Disco" (Leeds), "T-Bar" (London), "Retox" (London), "Nude @ Ministry Of Sound" (London), "Tenax" (London), "Substance" (Manchester), "Fresh & Fruit" (Padova), "Clorophilla" (Taranto), "Guendalina" (Lecce), "Amnesia" (Milan), "Tunnel" (Milan), "Codice a Barre" (Milan), "Gasoline (Milan), "Shocking" (Milan), "La Saponeria" (Rome), "Rashomon" (Rome), "Fem" (Florence), "Fraumarleen" (Lucca), "The Egg (London), "Unit 7″ (London), "Kubicle" (London), "50 Days" (Athens), "Aquarium" (London), "L'alternative" (Paris), "The Mill" (Valencia), "Underground" (Lisbon), along with the most famous djs such as Craig Richards, Richie Hawtin, Ricardo Villalobos, Lucien-N-Luciano, Adam Beyer, Sven Vath, Jeff Mills, Marco Carola and many others.
January 2007: he is in studio, producing for Safari Electronique with Arnaud Le Texier. Their first track "Awakenings" is on the Safari Sampler 4. He is also producing with Toni D for Kailash and Rubber Band. Their "Hazard EP" on Kailash, with remixes by Mark Broom and Le Texier, is out at the beginning of 2008. In October 2008 he releases "Wood EP" on Material Series, with Toni D and remix by Format B. In January 2009 more releases to come: "Liberacion EP" on Safari Electronique with Toni D and rmx by Tolga Fidan. November 2009 he releases again with Toni D a remix of Mihalis Safras Interafrica on Trapez Ltd and also the Likra EP on Material Series, with Anton Pieete rmx. Beginning of 2010 he releases with Toni D two remixes, one on Climatic (Jose De Divina's label) and one on Paulatine (Affkt's label) and one EP called "The Italian Connection" on Leftroom Limited. In 2011 he releases a solo EP on Italian upcoming label Plus Beat Records and another one on vinyl on Berlin's label OUT-ER. In 2012 he is on a Various Artists of the famous label Remake Musique.
The music he plays is basically techno in all its electronic shades. His constant music research never ends and allows him to play always different dj sets that find their trademark in big basslines and groovy rythms.